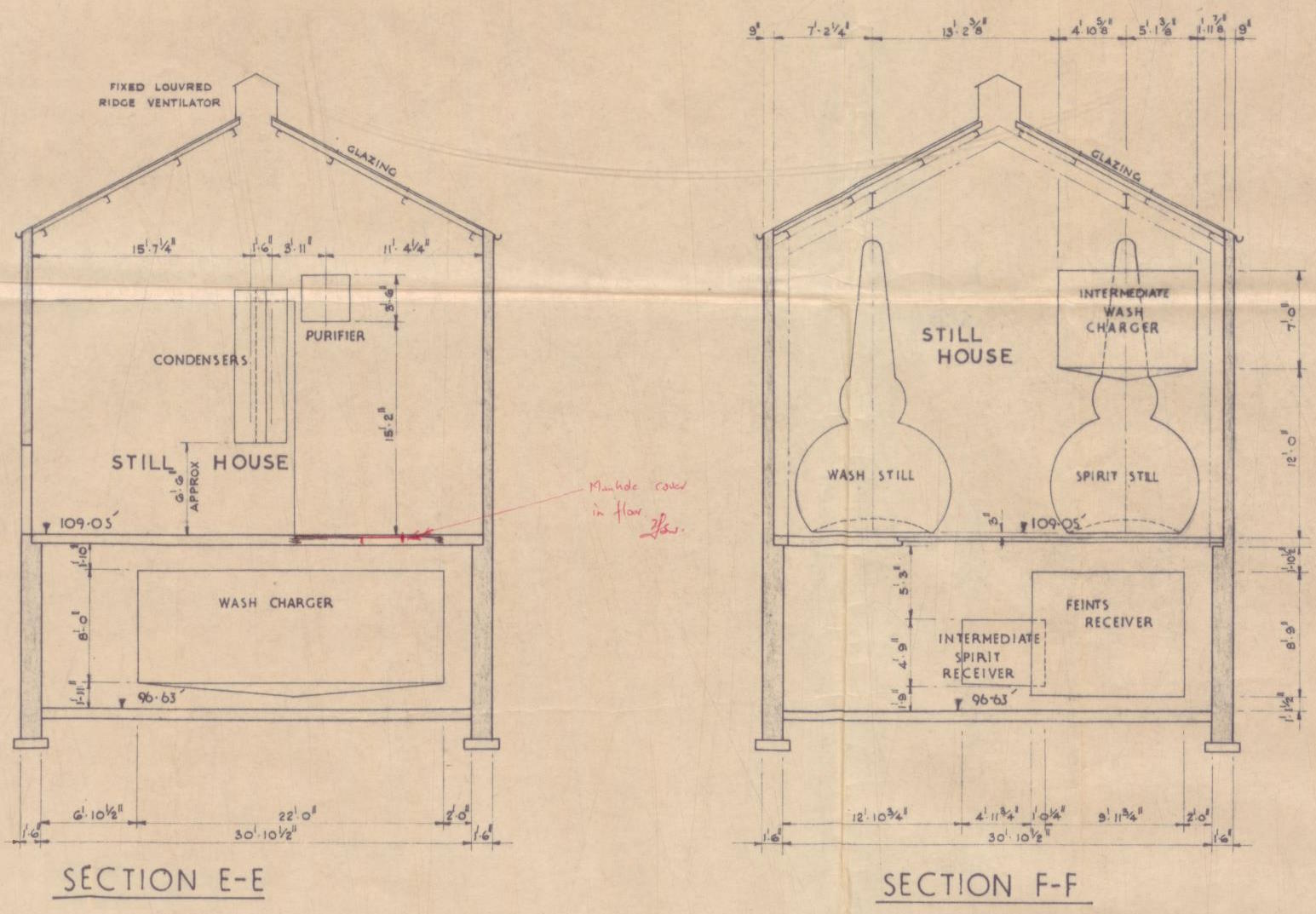 Before misunderstandings arise: Caperdonich will not resurrect. Having written a lot about the eventful history of Caperdonich, I am now going on a journey into the 1960s when the distillery was awakened after more than 60 years. I found an old file (number 37264/64) in the National Archives which contains a lot of interesting information about the planning application and the issuance of the building approval.
I want to anticipate that the work of the National Archives does not come cheap. And not entirely uncomplicated. However, in my opinion the expenses and efforts were worth it. Not only did I find exciting details about the "Caperdonich Distillery" construction project, but also interesting facts about the cooperation between distillers and tax authorities from that time. But one after anonther…
The distillery named Glen Grant #2, which was built in 1898 as an extension of the Glen Grant Distillery, was shut down shortly after the turn of the century for economic reasons. Keyword: Pattison crash. In the following decades, the distillery served as a spare parts store and malthouse for the Glen Grant distillery, which is only an (extended) stone's throw away. When the demand for Scotch whiskey increased in the 1960s – Italians in particular were thirsty for good blends – Glen Grant thought about how to meet this demand. They just did not necessarily want to see Glen Grant's single malt in these blends. So it was decided to put Glen Grant #2 back into operation and use the distillate from there, which was said to be similar to Glen Grant's, for the popular blends.
From here, the story took its course. On July 10, 1964, the managing director of J. & J. Grant's, Glen Grant Ltd., Major Douglas MacKessack, wrote to the Surveyor – whose name is unfortunately not printed nor legible on the file and whose signature looks like "Jackson" – of H.M. Customs & Excise in Rothes the following letter: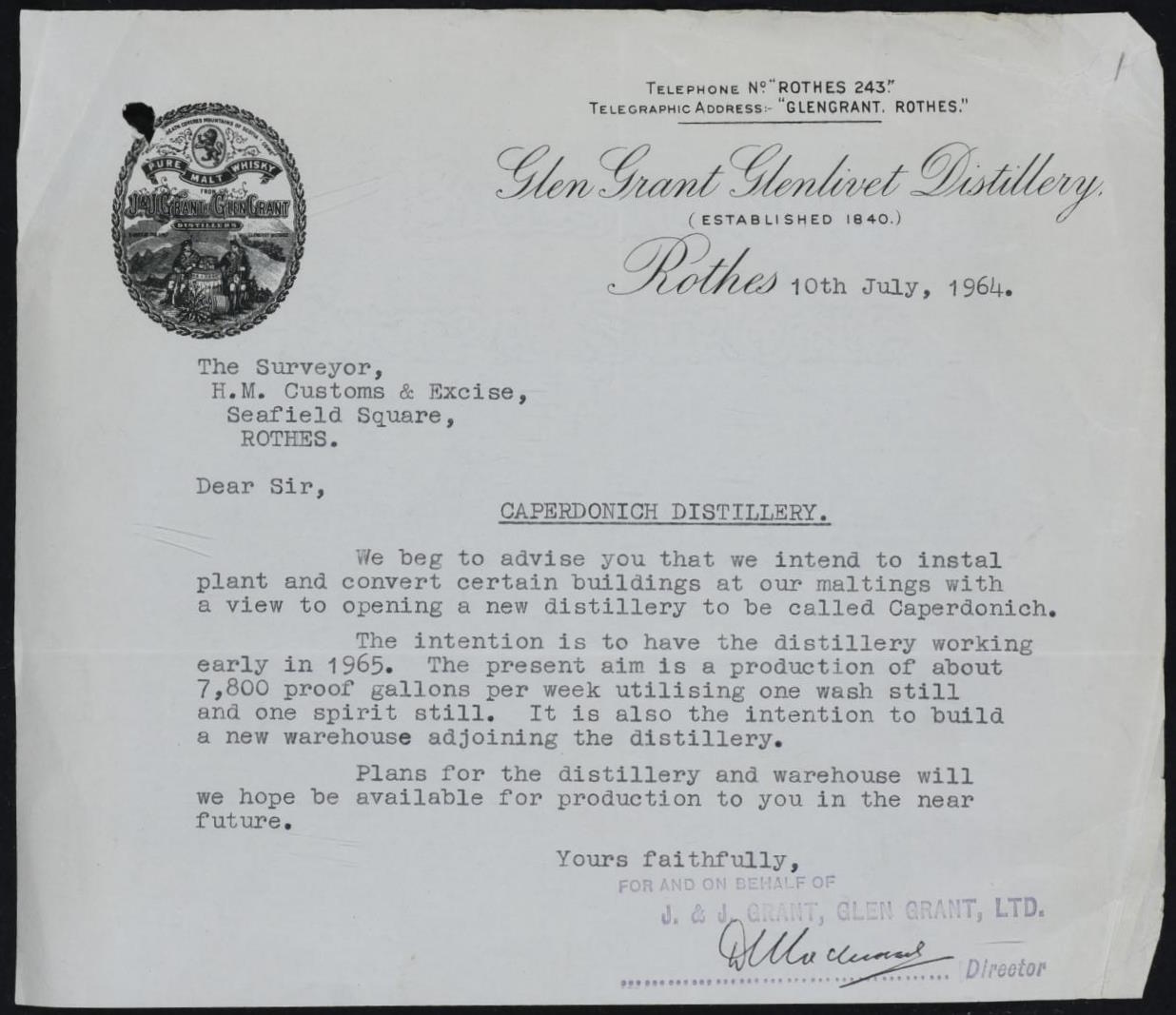 As you can see, the name Caperdonich had already been decided upon at this point. In early 1965 they wanted to start production again and distil 7,800 gallons of alcohol per week with one wash still and one spirit still. And a new warehouse was needed.
Surveyor Jackson forwarded the inquiry to the local Collector in Inverness, J.R. Campbell, on July 23, 1964. It is interesting to read that Glen Grant #2 should have been operating for a year or two only, after it was built in 1898, and was already shut down around 1900 (not in 1902, as it is mentioned frequently). It is also interesting that at this point in time Glen Grant had obviously already thought about expanding the distillery and doubling the production capacity. This expansion actually became a reality already in 1967. But that's still in the future.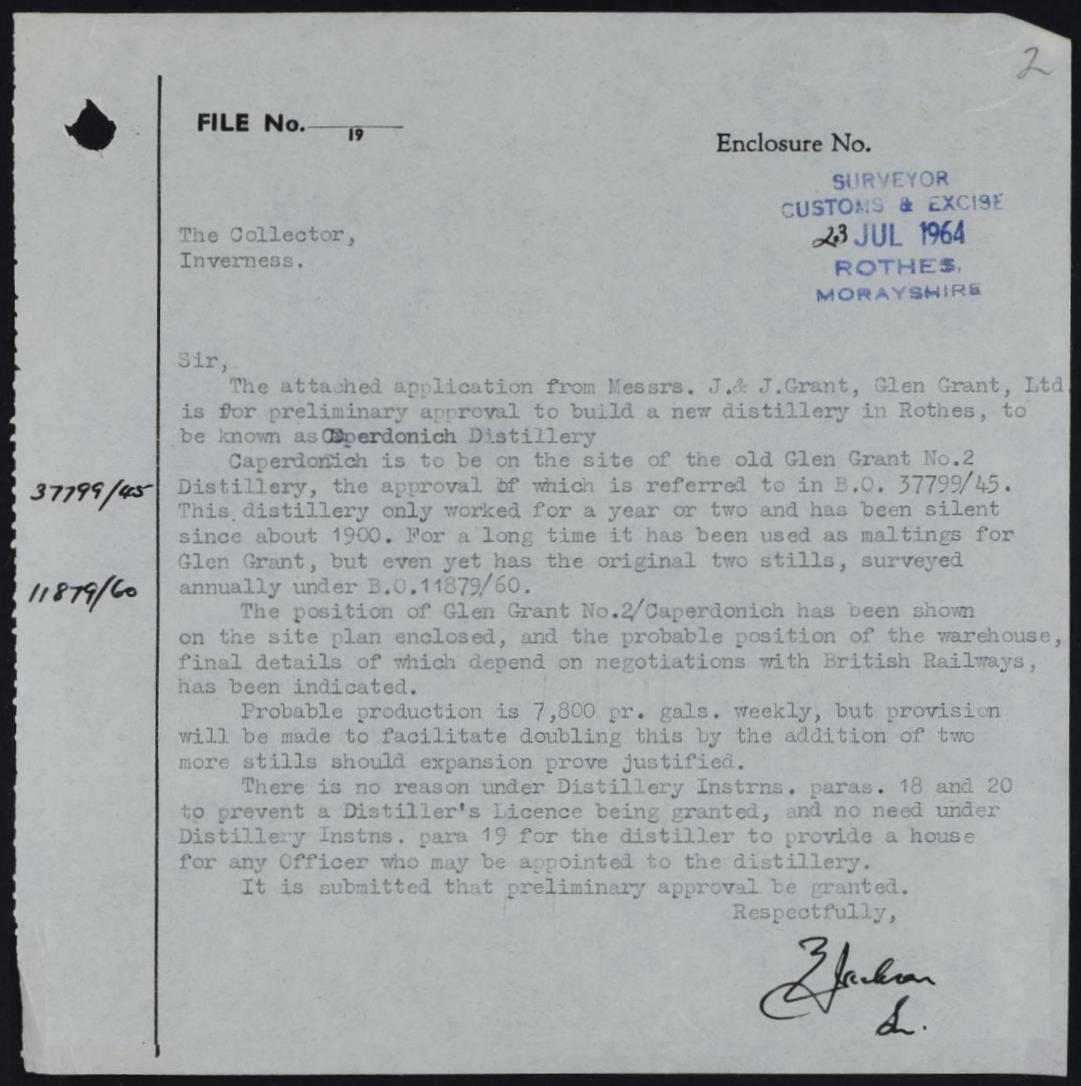 The last sentence of Jackson's letter, however, immediately led to a minor uproar and a little more correspondence. He understands that there is no legal obligation for the Caperdonich Distillery to provide accommodation to the Excise Officer assigned to the distillery. The day after Jackson's letter, the Deputy Chairman of the Local Whitley Council (also working under Customs & Excise), K.A.J. Coombes, replied that both laws and conditions have changed. In addition, there is no suitable accommodation within a reasonable distance from the distillery in Rothes, and it is in the interest of the distiller itself that the official can be on site quickly, Coombes argues. Campbell as well as Deputy Chief Inspector W. Louden do not share this opinion and point out that 6 other Excise Officers in the 4 existing distilleries in Rothes have already found accommodation of their own. The same rules should apply to the new distillery. Point.
Glen Grant Ltd. officially filed the "Caperdonich Distillery Company Ltd." on September 14, 1964 under the registration number SC040951.
Continuing on file 37264/64, there is a letter from Glen Grant Ltd. on September 30, 1964, this time written by Assistant Manager Smith, with a request to the Surveyor to allow removal of the Low Wine Still and the Wash Still from the existing facility to make changes to it. This request is granted and the annual surveying of Glen Grant #2 stills, which have been dormant for decades, is being discontinued under file BO 11879/60. At the beginning of October, Collector Campbell also confirmed the founding of the new company.
On October 28, 1964, upon request from the Chief Inspector's Office, Surveyor Jackson confirms that the stills were removed and disassembled. The stills are to be overhauled and adjusted by the long-established and renowned coppersmith Grant in Dufftown. Heads and all small parts are still at the distillery. The procedure was approved by Deputy Chief Inspector Louden on November 3, 1964, noting that the stills are currently not in a working condition and will first come under the supervision of Customs & Excise at the new distillery after its refurbishment. After all, a working still only has to generate tax revenue at the end of the day, and the final product is less interesting.
Collector Campbell writes to Glen Grant Ltd. on November 16, 1964, that there were no fundamental objections to the construction of a new distillery and a warehouse in Rothes. However, detailed plans would need to be submitted for provisional approval.
So far, so good, construction work could finally commence – which obviously took some time.
Campbell visited the distillery on March 19, 1965 along with the Unattached Surveyor F.J. Little from Rothes and the managing director of Glen Grant Ltd., Hugh Mitcalfe. Mitcalfe wanted the distillery to be up and running as soon as possible so that functional tests could be carried out, while the technicians working on the plant were still in Rothes. He promised to work 24 hours a day to improve items included on a list of necessary requirements.
The plans requested by Collector Campbell were submitted by Surveyor Little on March 24, 1965, when Caperdonich was actually ready to begin distillation, together with a very detailed description of the distillery and its equipment on 10 typewritten pages.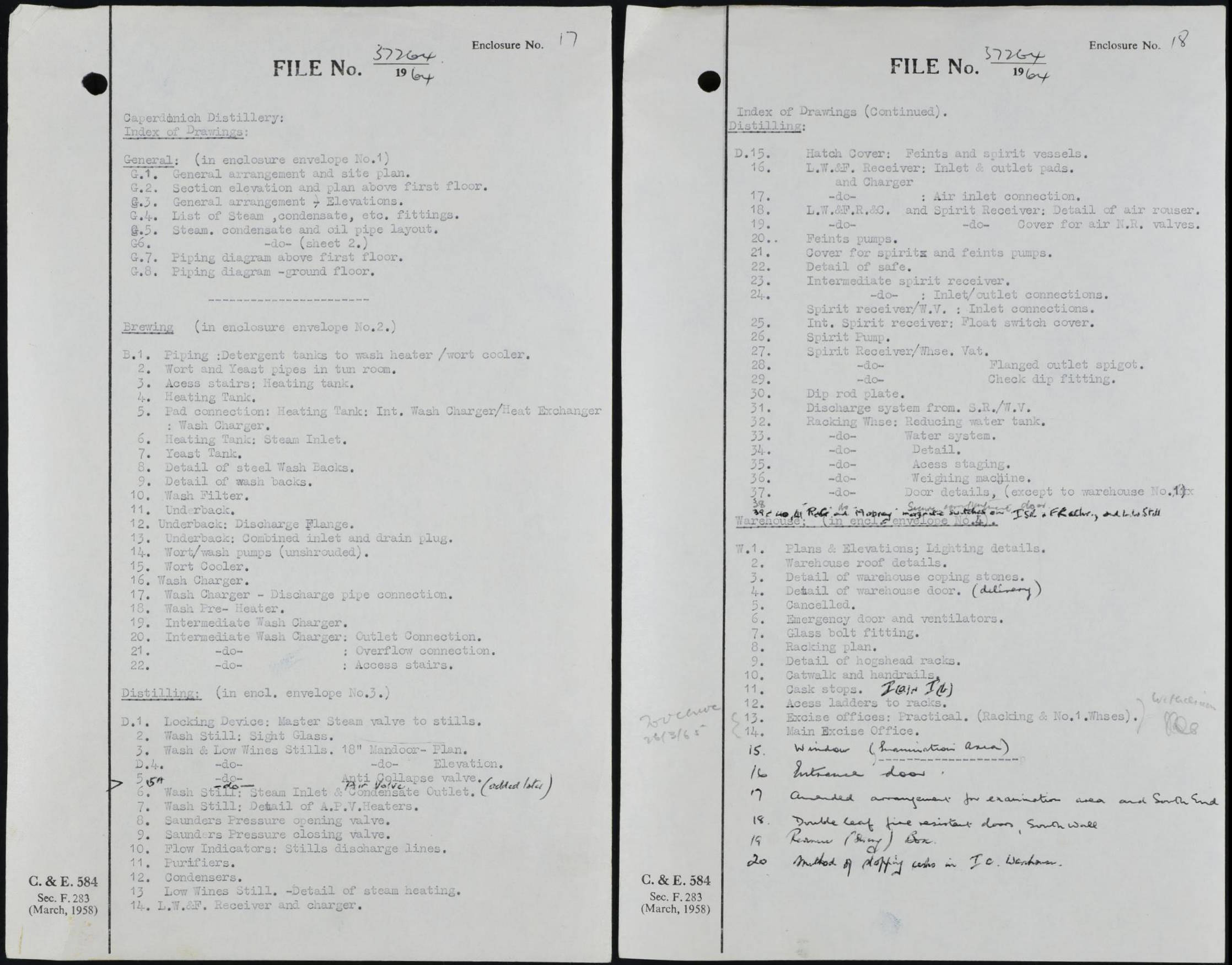 The description includes the general manufacturing process at Caperdonich and a more than comprehensive description of all parts of the facility such as:
 – Heat Tank (square vessel, welded steel, 12′ x 12′ x 10'3" deep, steam heated)
 – Mash Tun (round, open top, cast iron, 18′ diameter and 5'6" deep, with 12 outlets at bottom)
 – Wash Back (4 vessels, cylindrical tank, conical lid, welded steel, 13′ diameter and 15'2" deep)
 – Yeast Tank (rectangular steel tank, 6′ x 4′ x 5′)
 – Wash Charger (rectangular welded steel tank, 14,097 gallon capacity)
 – Intermediate Wash Charger (rectangular welded steel tank, 3,500 gallon capacity)
 – Wash Still (conventional pot still, belonged to the original Glen Grant #2 distillery)
 – Low Wines Still (original Glen Grant #2 still)
 – Steam Heating
 – Purifier
 – Condenser
 – Spirit Safe (brass, soldered, 16 SWG (= 0.064" = 1.626mm))
 – Low Wine & Feints Receiver and Charger (rectangular welded steel container, 16'6" x 11′ x 8'6" deep)
 – Intermediate Spirit Receiver (rectangular container, 6′ x 6′ x 4'9")
 – Spirit Receiver/ Warehouse vat (cylindrical container, 13′ x 13′, approx. 10,590 gallon capacity)
 – Office in Racking Warehouse
 – Warehouse No.1 (two sections, 208′ x 80′ and 224′ x 51'8")
 – Revenue office ( 9′ x 10′ x 8′ high, in examination area)
 – Main Excise Office (16'5" x 14'3" x 8′ high, in Racking Warehouse)
 as well as miscellaneous information on valves, pumps, scales, doors, building materials and building components
If you are interested in the exact details of the distillery description, please send me an email. I would be happy to send back the relevant original pages for a small fee.
Further detailed information and observations were made on March 31, 1965, by Unattached Surveyor Holden (who had since replaced Surveyor Little). This essentially concerned open issues in relation to structural safety and the security of the system against manipulation and unauthorized withdrawal of taxable liquids.
Holden was also present on the evening of March 27, 1965, when the wash still was fired for the first time. On March 28, 1965, he had approved the facility to the extent that a distillation test with water could be carried out to check for leaks. Apart from a few minor leaks that could be fixed quickly, there was nothing to complain about. On the evening of March 28, 1965, the Low Wines Still was put into operation and Holden states that the system was safe and leak-proof.
Collector Campbell wrote in a letter to the Honorable Commissioner of H.M. Customs & Excise on April 2, 1965, that he had visited the distillery on March 30, 1965, along with Surveyor Holden, and was very pleased with the status. However, he and Holden saw it as imperative to place the Intermediate Spirit Receiver at a higher level in order to minimize the risk of rigged flooding (and thus tax losses). Campbell also made it clear to the owners of Caperdonich that amendsments could still be requested even though the distillery was up and running.
Shortly thereafter, on April 26, 1965, to be precise, Assistant Collector J. Thorne informed J. & J. Grant, Glen Grant Ltd. that a provisional approval has been granted. Hooray!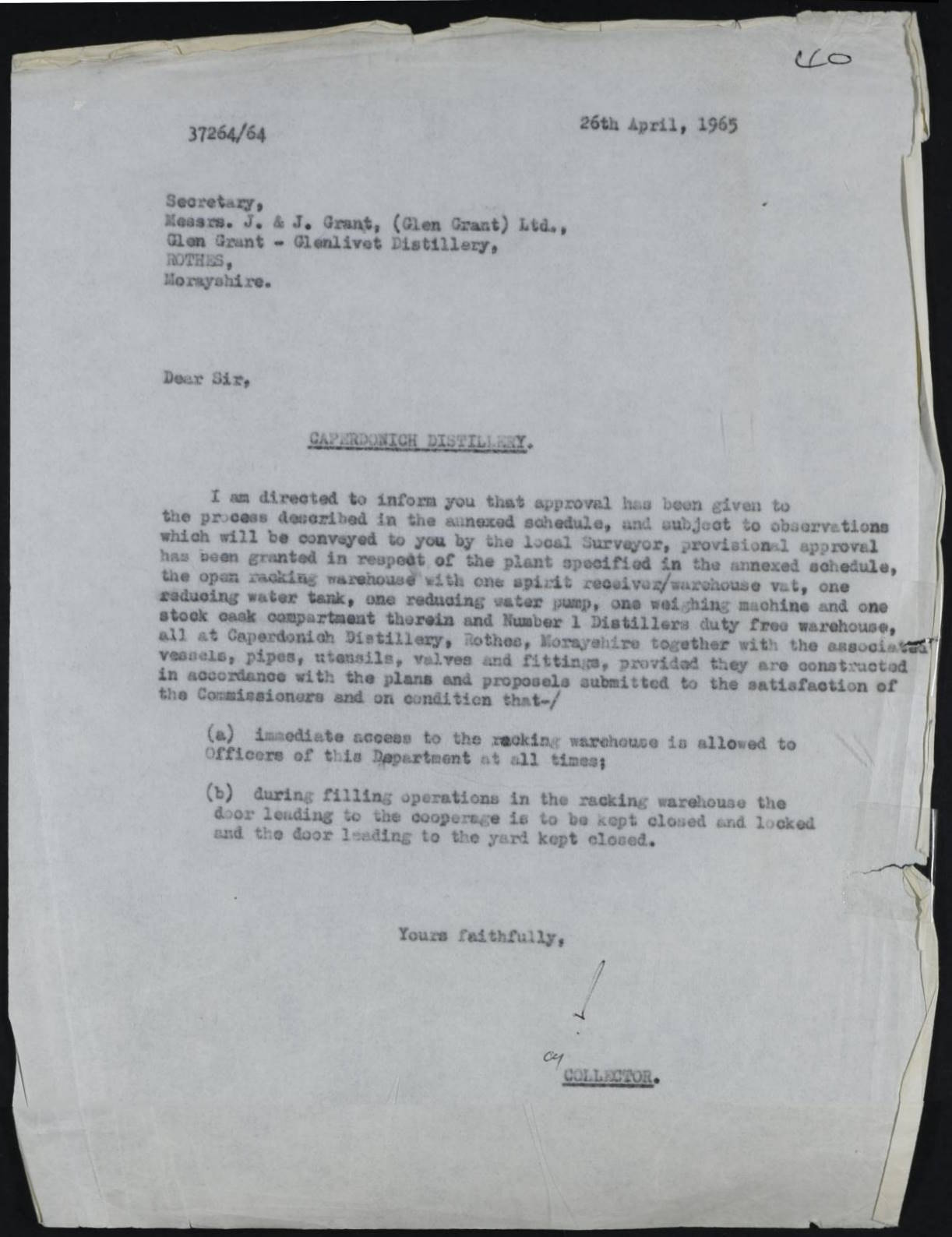 From this point on, the various parties will deal with a lot of… well… bits and bobs for the next few months. Ceiling fans, security bolts, manholes, Excise officer's office rent (£70 a year), odor nuisance… and especially door locks; when may which door to the warehouse be opened by whom, and when will it be locked again by whom without anyone being trapped or untaxed liquids being lost.
After completion of the last work on the warehouse, which has also dragged on due to changes in plans and further discussions related to this, Surveyor Jackson deals with unsolved issues on 4 typewritten pages one last time on May 25, 1966, i.e. more than one year after the provisional approval. He concludes his letter by recommending to granting a final approval – still subject to the fitting of door locks in the warehouse. The same recommendation is made by Collector Thorne on June 1, 1966, and Deputy Chief Inspector Louden on June 18, 1966.
Collector Thorne accordingly (and finally!) wrote to the Secretary of Glen Grant Ltd. on July 28, 1966, that the distillery was finally approved for operation. On August 25, 1966, he also gives his approval for the warehouse "No. 1".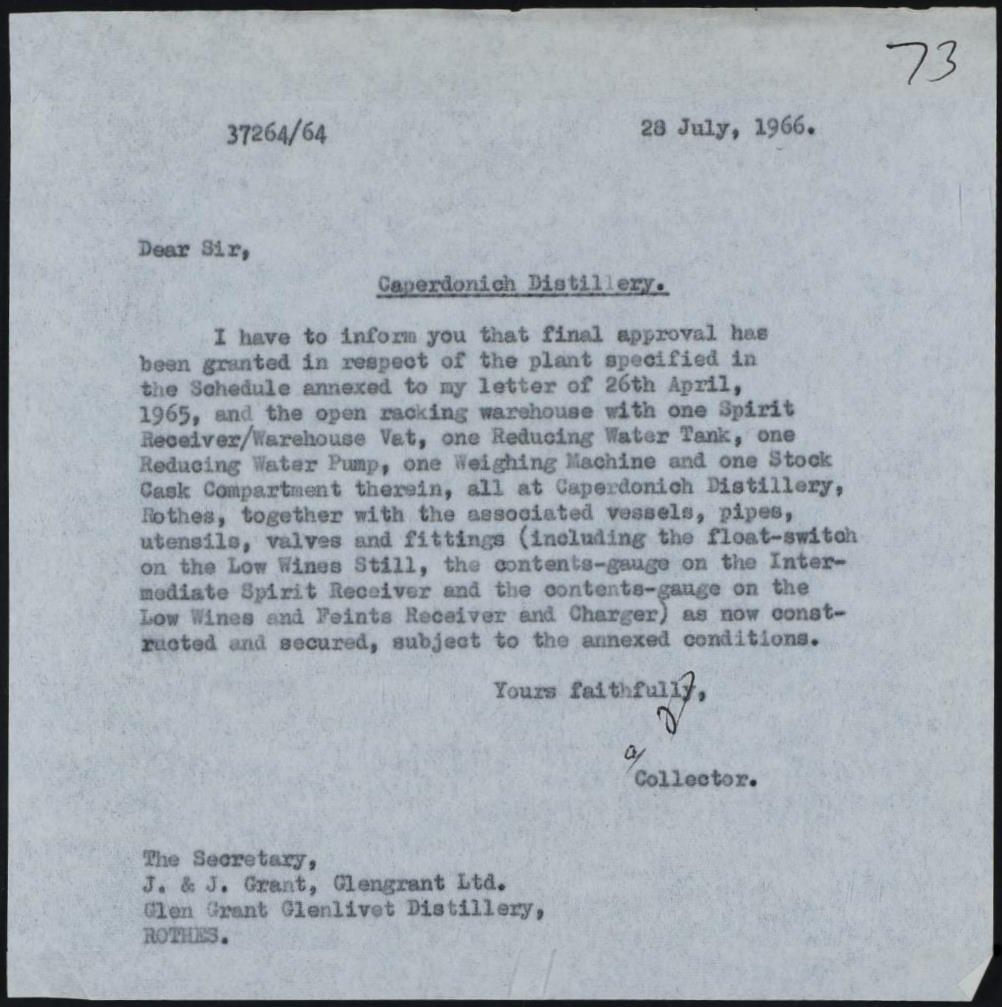 But let us return to the provisional approval of April 26, 1965. There are a handful of Cadenhead bottlings of Caperdonich that show 1965 as year of distillation on their labels. 3 of these even state "May" in addition to the year, one says "October". Cadenhead had acquired some of the very first drops that ran through Caperdonich's new Spirit Safe. However, it is likely that the casks were only bought after a few years of storage, not buying the pig in a poke.

Signatory Vintage also had (had) two bottlings on offer, the contents of which were distilled at Caperdonich on January 11, 1966 – also long before the final approval was granted – and were filled into casks 133 and 134, in which the distillate was allowed to mature for 30 years and more.
In any case, a piece of liquid history was bottled from these barrels. What a pity that this story has come to an end after such a short time already.
Finally, a few drawings of the "Caperdonich Distillery" conversion project: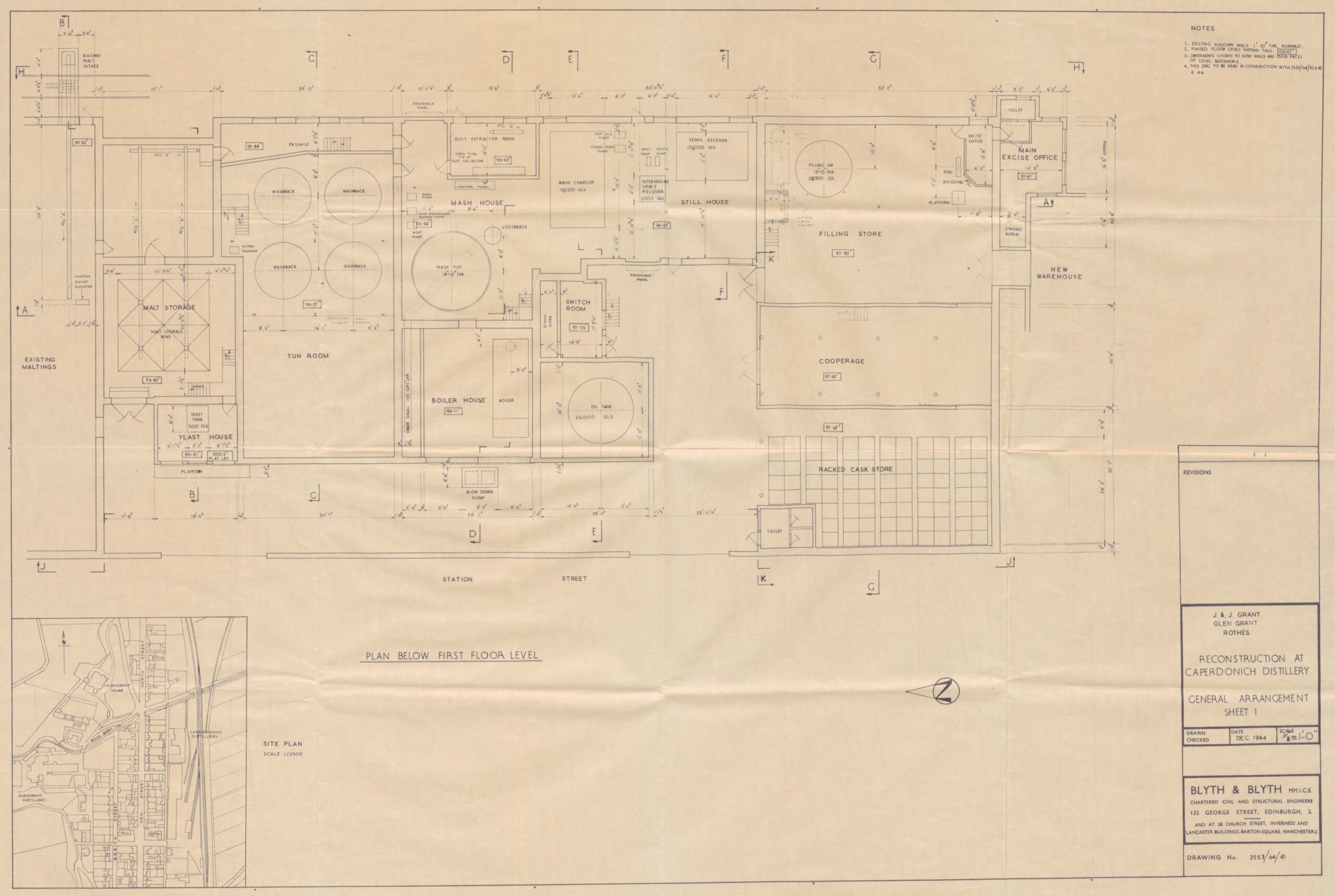 Layout of the distillery below 1st floor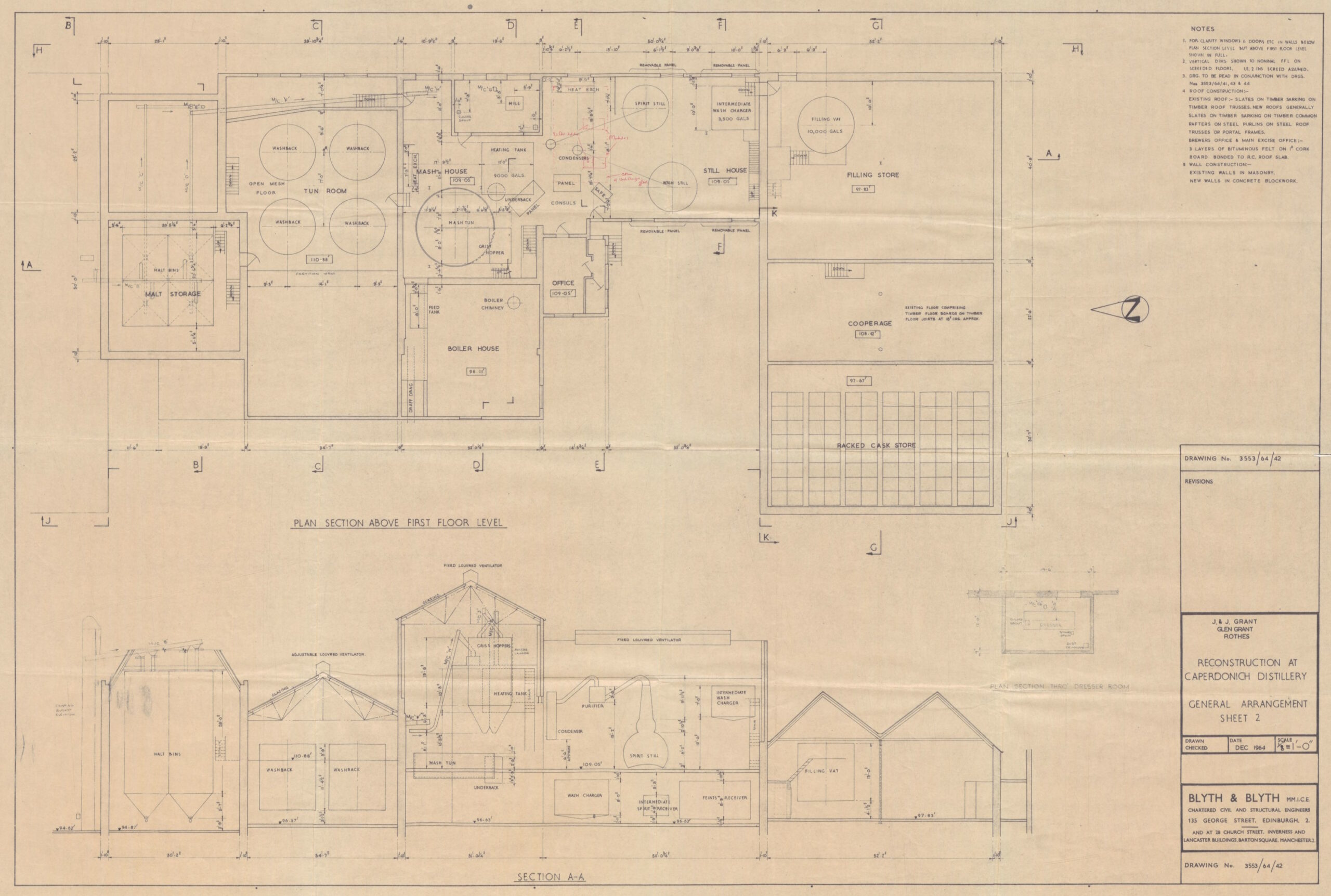 Layout of the distillery above 1st floor and section drawing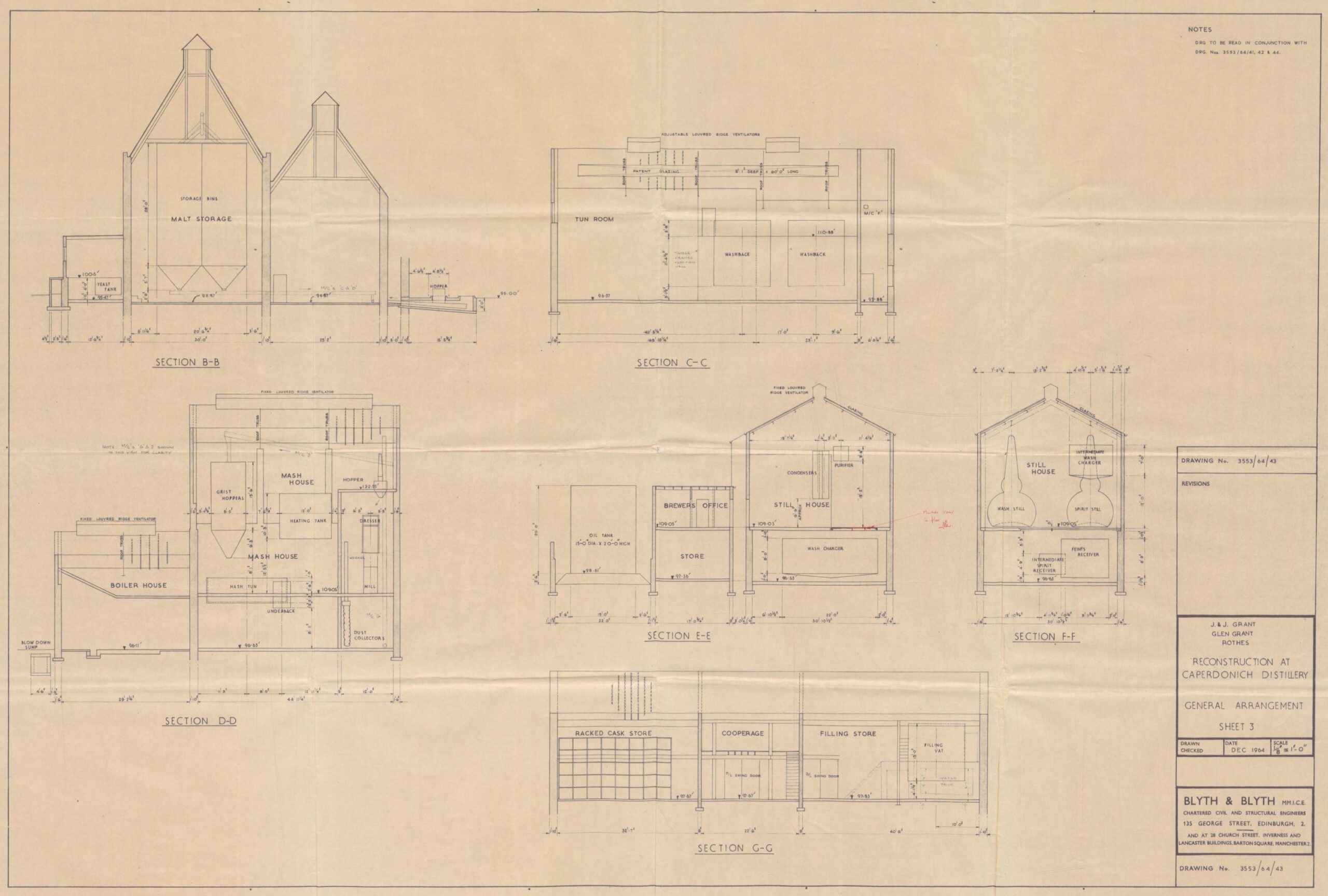 Section drawings of the distillery